My name is Chuck Geiger from Fresno, CA. Since 1964, I have been a fan
of The San Diego and Arizona Eastern Railroad. The little route that could.
Portions of the route from San Diego to El Centro went into Mexico, crossed
the largest wood railway trestle in the world and was run for a while by the
Southern Pacific Railroad.
I was a youngster living in Chula Vista, CA on the mainline of the SD&AE. Packing and ice houses and through freights running SP units of reefers and flats loaded with wallboard from Plaster City, CA (near El Centro) bound for San Diego. Freights leaving San Diego bound for the SP connection in El Centro, which would interchange and run north to Niland to proceed on the SP Yuma District. I have planned an HO and later an N scale version of the line.
FIND OUT MORE:
SD&AE WIKIPEDIA
Railroad Timeline
1873:

Population of San Diego 5,000.




1887: Sugar millionaire John D. Spreckles sails to San Diego.

1907: Population of San Diego tops 35,000. Spreckles begins construction of railroad.

1911: Imperial County is created. Mexican Revolution.

1916: Heavy flooding.

1919: First passenger train from El Centro to San Diego.

1920: Avalanche in gorge.

1930: Population of San Diego reaches 148,000.

---


Other Related DesertUSA Resources


1932

: A four-day fire collapses one tunnel, landslide closes another, a third destroyed by fire.




1940: Population of

San

Diego

reaches 203,000.

1942: U.S. Army patrols railroad for saboteurs.

1976: Hurricane Kathleen does heavy damage in Carrizo Gorge. Railroad almost abandons route.

1982: Line closed by storm damage.

1984: Line Closed.

2004: Line reopen They anticipate having

work

trains passing through the Gorge at any time of the day or night and by the spring 2004, They will have freight trains at the rate of four a day in both directions.


Source: BLM



SD&AE 2x4 N Layout from Tom in San Diego (from
Trainboard
)
Rough sketch of HCD layout 4/09
HCD final plan from above drawing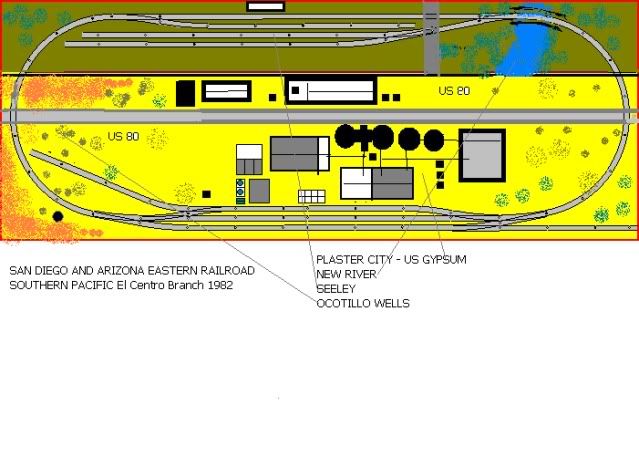 HO layout I drew in 2006