To get the right texture and look for desert scenery and the sand, I had to resort to some unconventional means. I will share the secret with you. You are not going to get sand, dirt or ground cover to look right in N scale. I started a test area on the layout in early 2011. I used a color of craft paint from Folk Art called Linen #420 at Wal-Mart, Michael s or any craft store.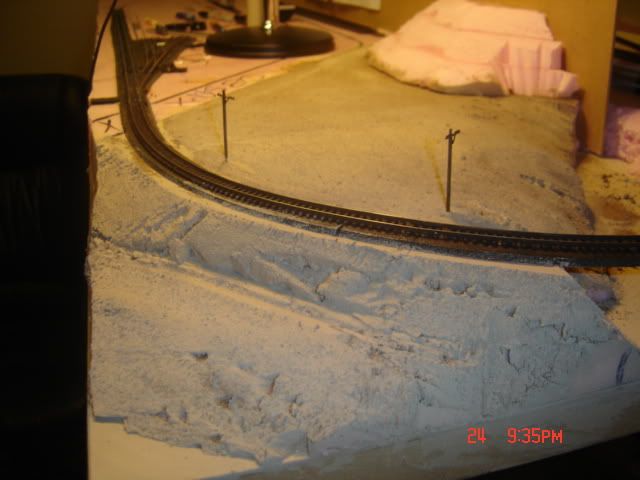 The test area results were outstanding. I painted the foam tabletop with the craft paint and sifted real desert sand from the banks of the Colorado River near Yuma, AZ on the sand with a strainer. I let it dry overnight. Next day I took a sanding block and roughed up the sand that was adhered to the paint. Then took the shop vac to the area, and took a mixture of 3/4 paint and 1/4 water and dabbed it on the dry sand. the same color.
I screwed up the test area up by adding more sand over the painted sand and the color darkened. I need to fix that area to blend in with Coyote Wells.
The vegetation in the test area was pretty simple, 3-4 kinds of Woodland Scenics Course Turf:
Burnt Grass
Yellow Grass
Earth
backdrop due to the lack of a real horizon when I took the pics.
Coyote Wells in the future:
Add more sifted sand to the grey ballast on the mainline
String the telegraph poles
Add figures to the scene
Paint MOW buildings window and door frames SP brown
Here's the actual area: